Every year DOMFIL arranges a research symposium called Health University Research Symposium (

HURS

). The purpose of HURS is to bring forward the medical research conducted in Linköping, inspire

PhD student and young researchers to better research and at the same time create a platform for meetings between the industry, students

and researchers. This year

HURS will be held on the

March 23rd 2018

and you are more than welcome to participate!
Remember the event is OPEN and FREE of charge!! You should also know that free coffee will be served during the day and that the first 50 attendees will receive a stuffed bag of goodies.
Location: Hus 511 (Växthuset) Entrance 78, Campus US
For the most recent updates check out the facebook event here.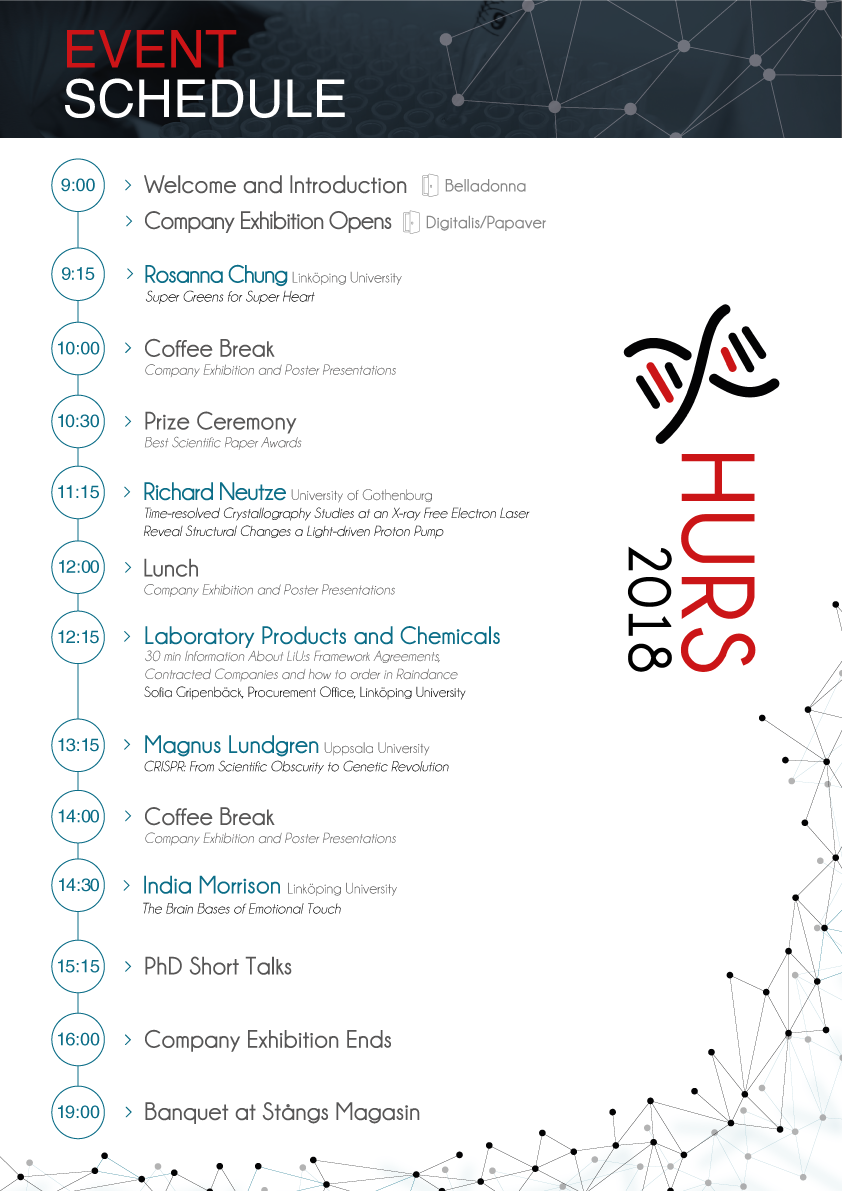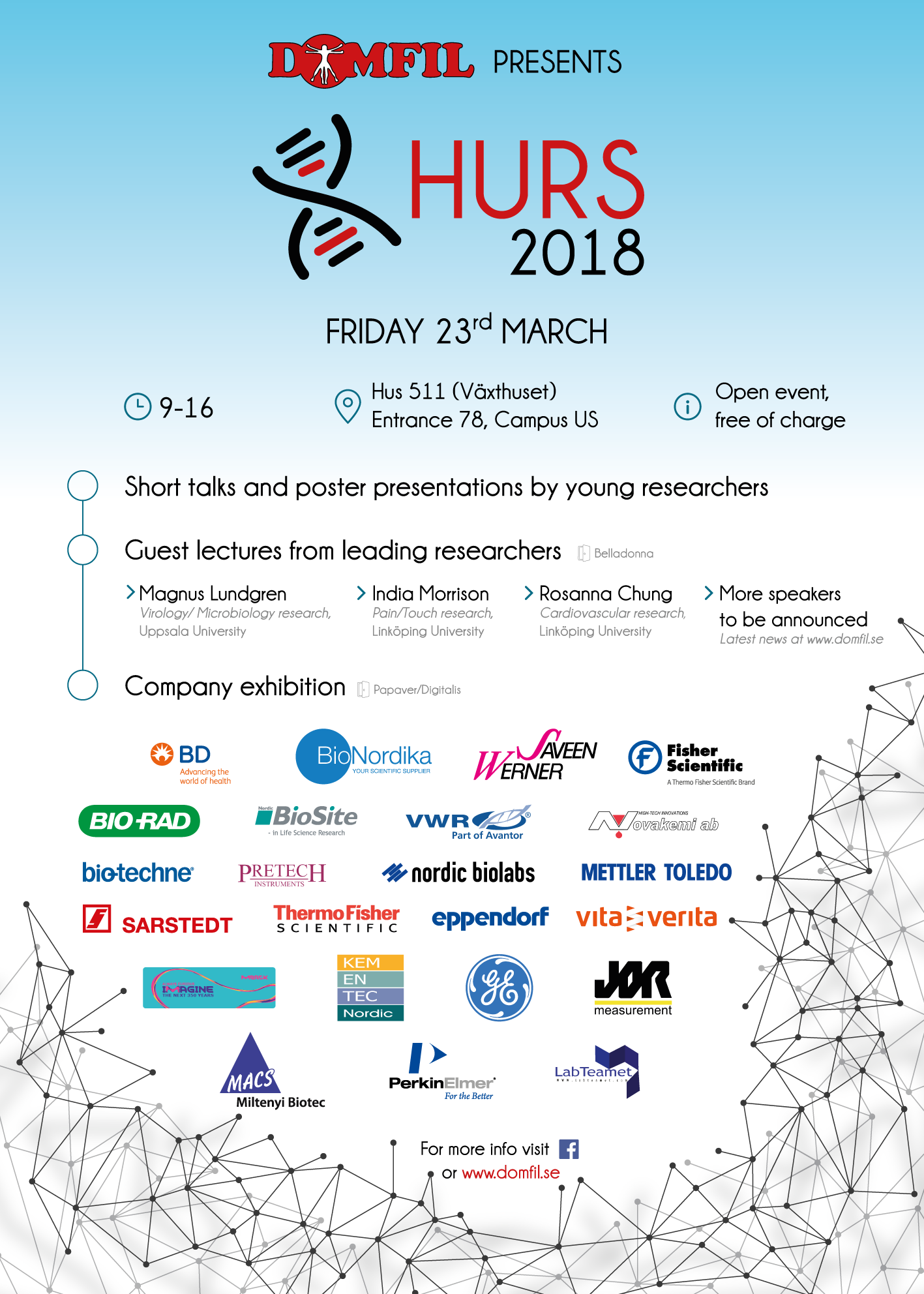 Speakers
This year speakers: 



Rosanna Chung, Cardiovascular research, LiU  



"Super greens for super heart"

 

India Morrison, Touch/Pain research, LiU

: 

 



"C-tactile afferents in affective touch and pain"

 

Magnus Lundgren, Virology/Microbiology, Uppsala University:  

"CRISPR: from scientific obscurity to genetic revolution"  

Richard Neutze, Chemistry/Molecular Biology, Gothemburg University NEW! 

"Time-resolved Crystallography Studies at an X-Ray Free Electron Laster reveal structural 

changes a Light-driven Proton Pump"




Short talk
You Chang, Logopedia, audiology and otorhinolaryngology, LiU
"A Finite Element Model for Bone-conducted Sound and the Application in Different Fields"
Arjan Mofers, Division of Drug Research, LiU
"Selective targeting of proteasome dubiquitinases by enone-containg compounds"
Best Scientific Paper Award
The two "Best Scientific Paper Award" are decided.
The prizes, of 5000 SEK each, will be awarded to two PhD students, registered at the Faculty of Medicine and Health Sciences, who are the leading authors of papers which express excellent scientific achievement. The awards will be presented during HURS 2018 on Friday 23rd March at 10.30h, which will be hosted in Belladona, at the new building Hus-511 at the University Hospital.
Our winners this year are:

Antonio Lentini from the Division of Children's and Women's health, with the paper:

'A reassessment of DNA immunoprecipitation-based genomic profiling'

https://www.biorxiv.org/content/early/2017/11/24/224279



Anna Mathia Fritz Klawonn, Center for Social and Affective Neuroscience, with the paper

'The Sigma-2 Receptor Selective Agonist Siramesine (Lu 28-179) Decreases Cocaine-Reinforced 

Pavlovian Learning and Alters Glutamatergic and Dopaminergic Input to the Striatum'

https://www.ncbi.nlm.nih.gov/pmc/articles/PMC5641388/
Poster session
The poster session will be located in front of Papaver (Hus 511 (Växthuset) Entrance 78, Campus US)
Banquet
It is tradition to finish the day with a very nice three-course dinner. This year, the banquet will be at 19.00h in Stångs Magasin.
If you have any problems with the payment, please contact: treasurer@domfil.consensus.liu.se
Companies
BD Bioscience
Bio-Rad
Bio-Techne
BioNordika
Eppendorf
Fisher Scientific
GE Healthcare
JoR AB
Kem-en-Tec Nordic
LabTeamet
Life Technologies
Merck
Mettler-Toledo
Miltenyi Biotec
Nordic Biolabs
Nordic Biosite
Novakemi
Pretech Instruments
Sarstedt
Saveen & Werner
Thermo Fisher Scientific
Vita Verita
VWR
Hope to see you all at HURS 2018!